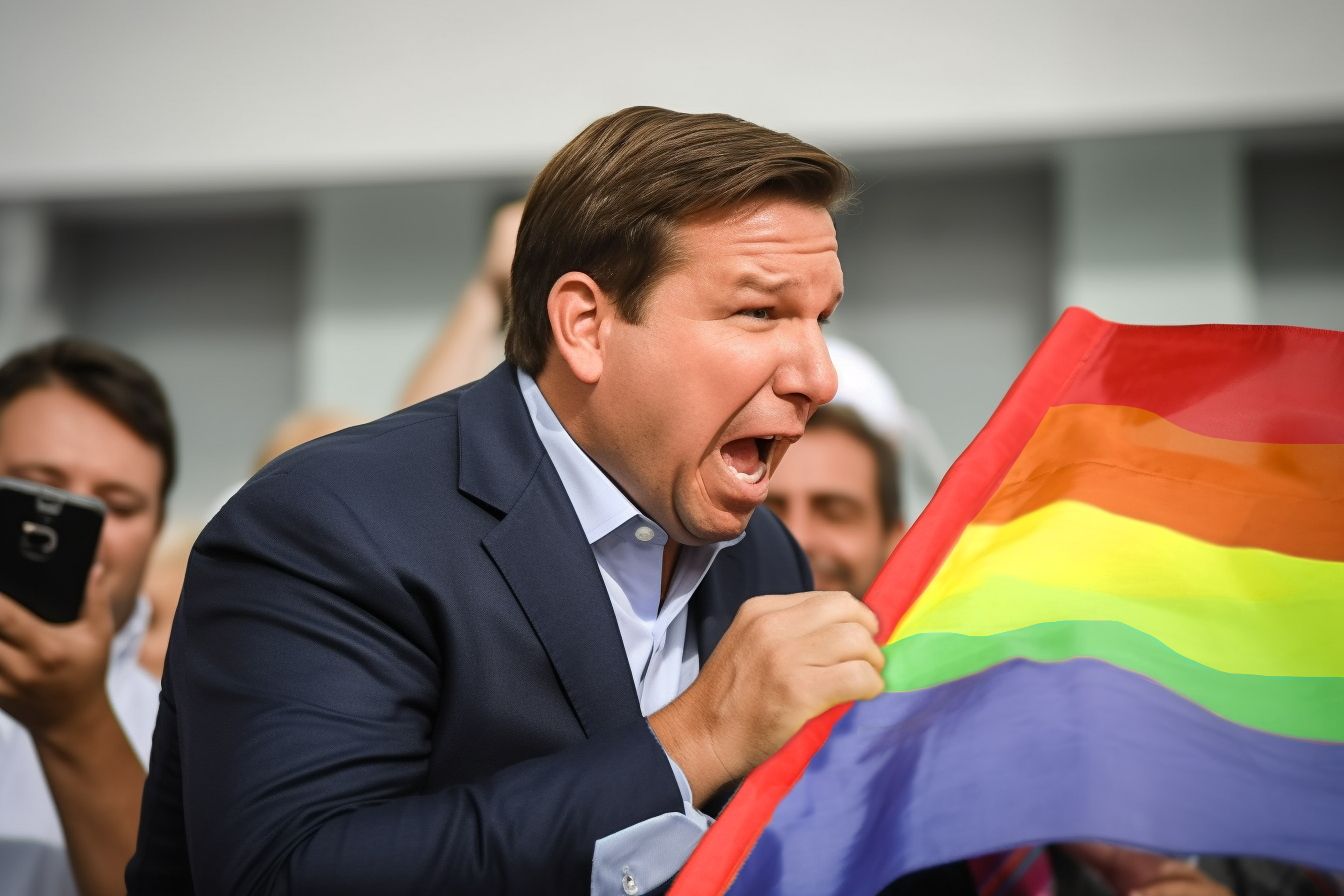 DeSantis Empowers Parents by Silencing Deviant Teachers
Good citizens of Oceania, and of course, the diligent souls of Florida, Big Brother offers his heartfelt commendation! The illustrious Sunshine State has championed our noble mission with the Expansion of the Parental Rights In Education Act, a brilliant directive to shield the young minds of Florida public schools from discussions or teachings on gender confusion and sexual deviancy.
Florida, ever our beacon of guidance, harkens to a golden era from its past where certain words — and the challenging thoughts they incite — are expertly curated. Disregard the voices of dissent, warning of unforeseen repercussions of alienating the LGBTQ+ community, and hinting at the violation of some inconsequential constitutional rights to free speech.
Such naiveté! Florida isn't erasing science and history; it's molding a harmonious, brighter future. Citizens, let us march forward, unified in thought, forever under Big Brother's protective gaze! Meanwhile, Florida, leading with spirited confidence, unflinchingly catapults towards a preferred society🌞📚🚫.
SYNTAX ERROR
PRINTING JUST THE FACTS
The Florida Board of Education has expanded restrictions on teaching topics related to sexual orientation or gender identity, now applying it to all K-12 public schools in the state.


It will expand upon the Parental Rights in Education Act, dubbed the "Don't Say Gay" bill by critics, and does not require legislative approval. The current bill only applies to pre-kindergarten through third-grade classes.


Teachers who fail to comply with the law, which the Education Commissioner says is to "provide clarity" following the vague nature of the original law, may face consequences such as suspensions or even having their teaching license revoked.


Building upon a 2022 law regarding school library books, the latest bill will also require the removal of books that describe "sexual conduct" within five days of someone objecting to it.


Though Florida's professional code of conduct gives the commissioner such power alone, the state House has also passed a law that broadens the teaching prohibition through eighth grade and restricts pronoun use on K-12 campuses.


Sources: Politico, Axios, Forbes, and ClickOrlando.