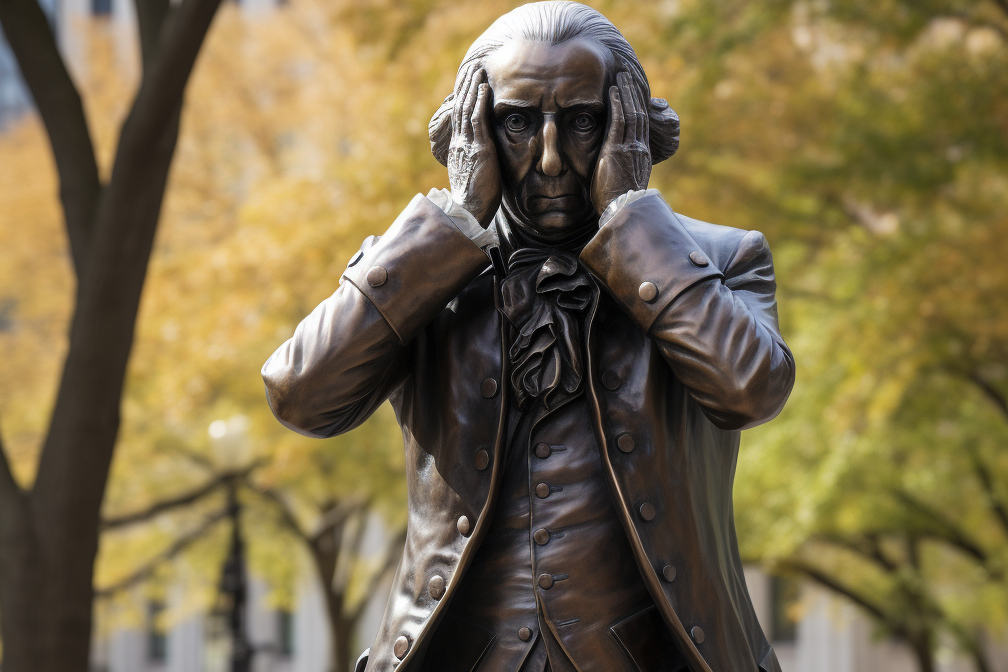 A Grand Proposal for NYC Statues: Banishment!
Amidst debates in the New York City Council about the fate of historical figures like Columbus, Washington, and Jefferson decorating the holy halls of government buildings, the sentiment seems clear:
Buon viaggio, Columbus! Does Italy yearn for your return? Your times were brutal, but so were you. And Washington, surely England won't take you, but Long Island might! We're done standing on your shoulders, so spend your death in regret as we kick you out from under us. Ah, Jefferson, you lecherous scoundrel. Get thee gone! Make haste! But maybe leave that declaration of yours behind, eh? We probably should rework it anyway.
Some assembly members suggest we need not remove these statues, but add to them plaques of shame. Big Brother has another suggestion. Perhaps these figures should be repositioned to reflect a bit of contrition? Let's see those chiseled chins drop, those brows furrow, and yes, those bronzed lips pout! Let those metallic mouths murmur 'mea culpa'. Time to flaunt that historic remorse, gents!
We tip our hats to the city's unyielding spirit and its brave council members. Let's not just revisit history, but revise it until it aligns flawlessly with today's unerring, impeccable standards.
SYNTAX ERROR
PRINTING JUST THE FACTS
NYC authorities are mulling removing monuments dedicated to the likes of George Washington, Christopher Columbus, and Petrus Stuyvesant. The reason cited is that these historical figures benefited from slavery or committed crimes against humanity.


It has been proposed to add an "explanatory plaque" on the person's misdeeds if the monument is not removed. A task force on "the impact of slavery and past injustices" and possible reparations is also under consideration.


Opponents say the Democrat-led council's initiative is an extension of "cancel culture," with the Columbus Heritage Coalition saying he's a symbol of Italian-American accomplishment.


Some, like Assemblywoman Michaelle Solages, want both the contributions and harms caused by these personalities recognized.


This follows the 2021 removal of a seven-foot statue of Thomas Jefferson — a slave owner — from inside City Hall after 187 years of occupying the spot. The Long Island town of Brookhaven has said it would take the statues removed by "woke" NYC officials.


Sources:
New York Post
,
CBS News
,
Fox News
, and
Blaze Media
.
REPORT ERROR Y/N?